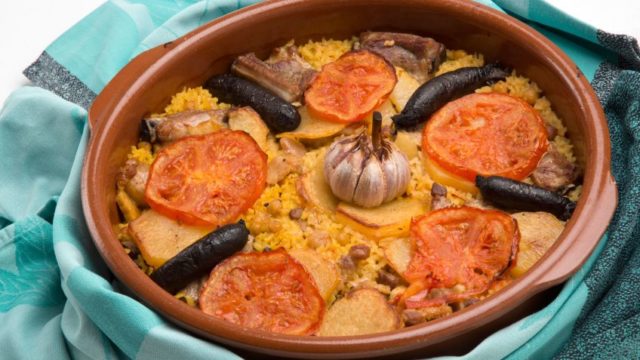 In Costa Blanca Inland we have dream towns and an exemplary climate, but we also stand out for our gastronomy. Healthy and varied products and dishes that make up a quality gastronomic map in our inland regions. In this Carbonell Real Estate article we have prepared a menu with the most typical dishes from Costa Blanca Inland. As starters we offer you a selection of our best homemade "tapas": cod meatballs, "pericana" or "espencat". A good spoon dish with rice: "arròs al forn", red peppers, stuffed with rice, or the "olleta alcoyana". We will continue with some of the most typical desserts: cake, meat pies or sweet almonds. And, to drink, wines with Denomination of Origin, liqueur coffee or "Herbero".
The starters: the picaeta and tapas
One of the most popular traditions in Costa Blanca Inland is to eat "picaeta", based on varied Spanish tapas. It is a combination of flavors distributed in different dishes: meat, fish or vegetables, all prepared homemade and accompanied by bread. In places like Alcoy, Cocentaina or Ontinyent are typical olives stuffed with white cheese and anchovies. Also, meatballs of cod or ham, "abisinios" (breaded egg), "garibaldinos" (breaded red shrimp) or salt cake of flour or tomato.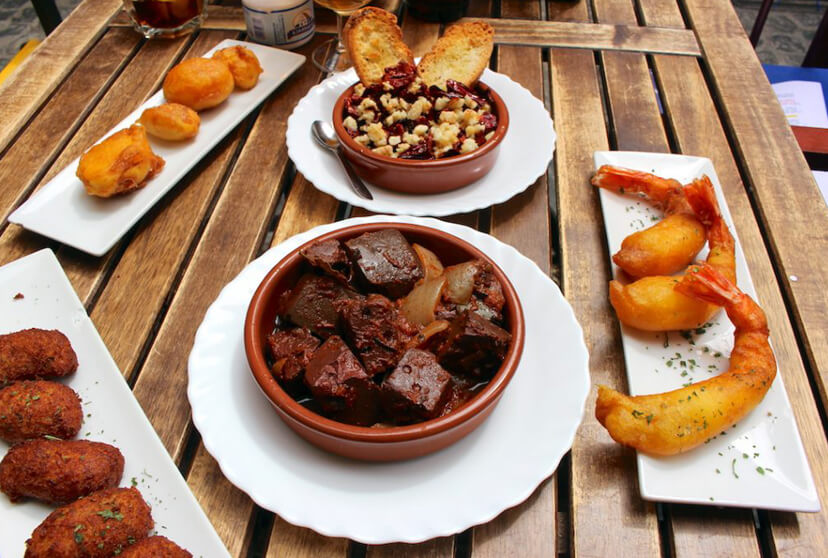 In the regions of Alcoy and Cocentaina, there are two very popular tapas: "l'espencat" and the "pericana". The pericana is made up of dried red peppers, cod, garlic and olive oil. "L'espencat" (meaning "cut"), has many versions according to the Valencian town. However, usually bring tomato, onion, red pepper or cod, among other vegetables. Both dishes are very healthy and perfect for any dinner.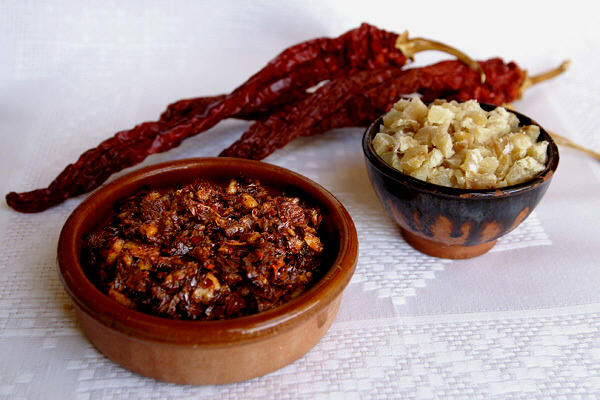 Spoon dishes: rice, red peppers, olleta and fideua
After the "picaeta", rice arrives, the star dish in the whole Valencian Community. The paella is the world reference. But for many years, the province of Alicante and, specifically, the mountain regions, have specialized in different variants of rice. While in the maritime localities the seafood rices predominate, in the mountain ones, predominate those with meat and vegetables.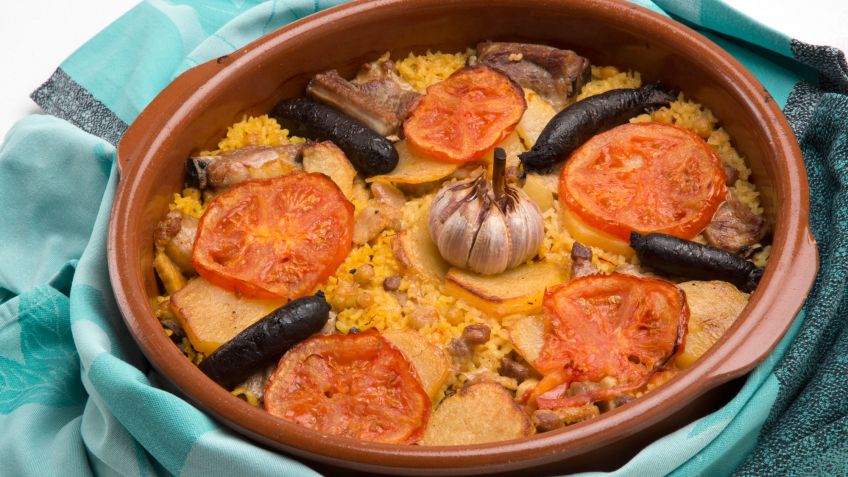 The "arroz a banda", traditional Valencian recipe, is cooked in a cauldron with fish, but it is served without it. "A banda" means "besides", because all the ingredients are removed and can be taken with "all-i-oli" (garlic and oil). "L'arròs al forn" (baked rice), is famous in Ontinyent and carries potatoes, black pudding, chickpeas, pork ribs and tomato. Although it can vary according to the city.
The rice with beans and turnips, traditional in the towns of Alcoy and Cocentaina, combines meat and vegetables. In addition, in Alcoy there are two very typical spoon dishes: the red peppers stuffed with rice and the "Olleta". The pepper has inside and lean rice and is baked to get it well cooked. The second one is especially famous at Moors and Christians festivities and is made up of meat, beans and vegetables. Optionally, you can add rice.
It is also important to talk about the "Fideuà", very similar to rice "A banda". With fish broth, but with pasta noodles instead of rice. Today it is a popular dish throughout Spain.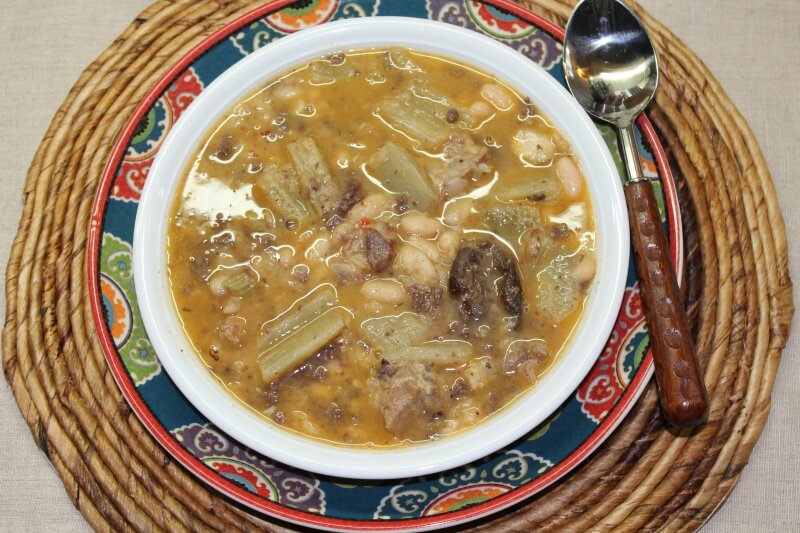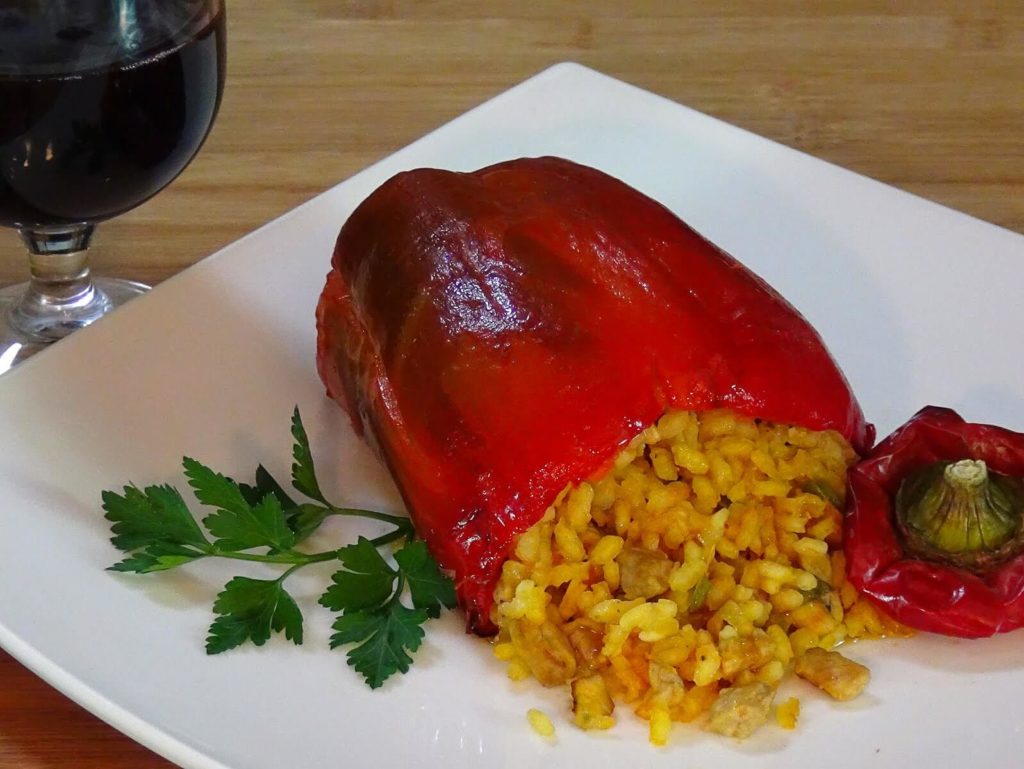 Drinks
The wines of Alicante and Valencia are increasingly recognized and awarded. The Wine Route, essential for wine lovers because it runs through all the wine cellar that make up the Denominations of Origin of Alicante and Valencia. The climatic conditions, the combination of sea and mountain and the variety of flavors, make Costa Blanca Inland a good area for wine. On the other hand, in the towns of Alcoy and Cocentaina, the coffee liquor stands out: 100% natural coffee, macerated with alcohol. It is especially popular at Moors and Christians festivities. Some traditional liqueurs, such as the "Herbero" from Bocairent, the "Mistela" or the "Salvia", are also typical in our regions.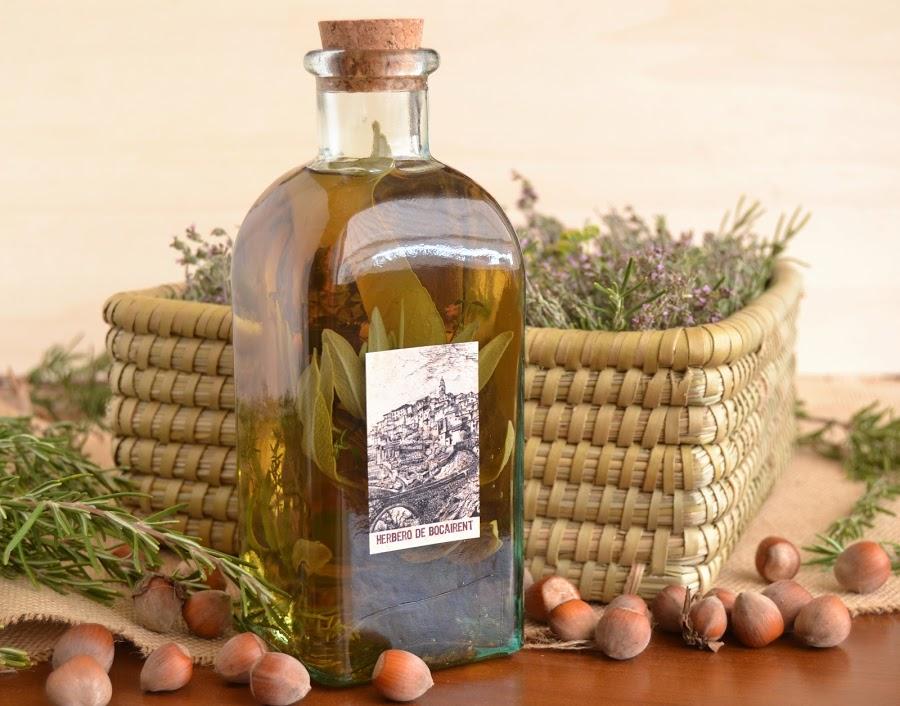 Desserts
To finish, a good handmade sweet. In addition to the famous "Turrón" of Jijona, on Costa Blanca and, especially in the inland, there are very typical homemade desserts. In the regions of Alcoy and Cocentaina, meat pies stand out (puff pastry stuffed with meat, pine nuts, cinnamon and sugar). Also popular are the "peladillas", almonds covered with sugar and, of course, the almond cake, also with sugar glaze. In Vall d'Albaida and especially in Ontinyent and Bocairent, the "monjavines" are famous. A sweet of Arab origin that is baked. Also, the golden melon, native variety of Ontinyent. It has been cultivated for more than 700 years and is characterized by its sweet taste and its golden yellow color. A gourmet product that has crossed our borders.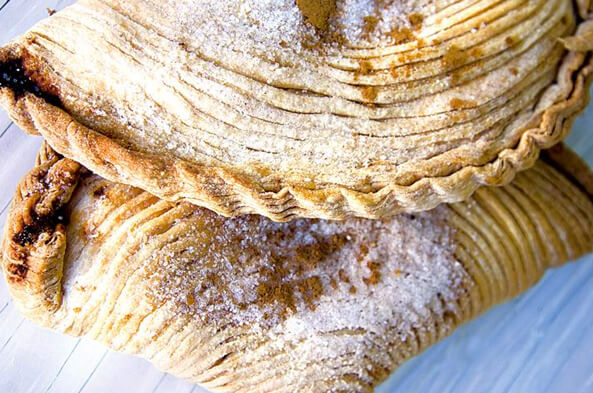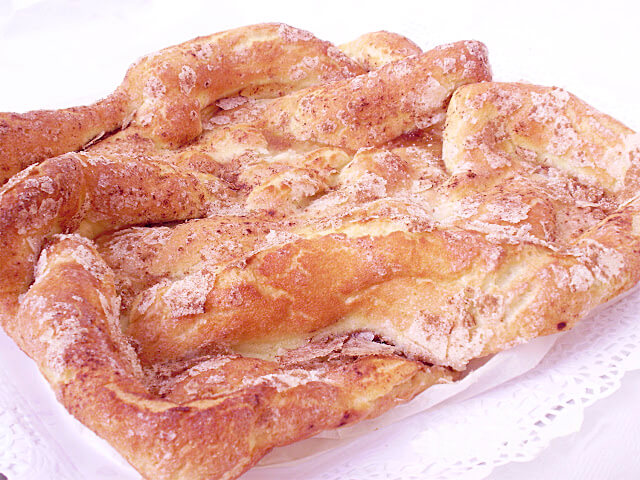 In Carbonell Real Estate we do not only look for your perfect villa. We also inform you everything in Costa Blanca Inland. Our traditions, customs and, also our gastronomy. With traditional products that are a reference in the Valencian Community.