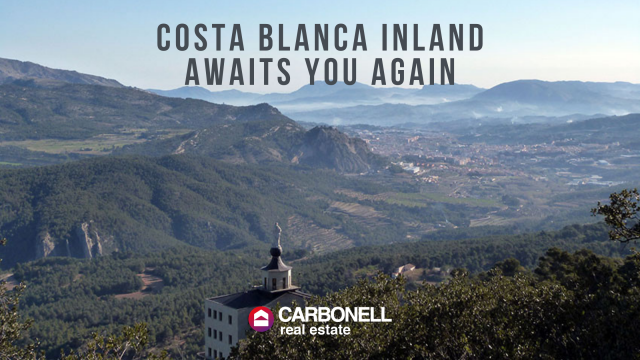 Spain is again a safe country. But, even safer it is to live in Costa Blanca Inland, since it is a very quiet and inland area, close to the mountain and away from the crowds and bustle of the coast.
At Carbonell Real Estate we want to transmit a message of calm and optimism to all our European clients so that they consider Costa Blanca Inland as a very interesting option, both for its safety and for its attractiveness.
Costa Blanca Inland comprises the north of the province of Alicante and the south of the province of Valencia. Populations such as Alcoy, Ontinyent, Albaida, Muro de Alcoy, Cocentaina, Bocairent or Ibi, among others, stand out for their natural environment and its warm and temperate climate all year round, as well as for its proximity to the sea and its easy connection to airports, its gastronomy and its calm way of life.
At Carbonell Real Estate we have a wide variety of country houses in this area. Spacious chalets at attractive prices and always cheaper than those you can find in homes near the coast.
Every crisis passes and in Spain we have already entered the "New Normality", but always respecting safety, distance and hygiene measures, to avoid possible outbreaks.
Spain has already opened its borders to the Schengen area, so we are already receiving European citizens from all these countries: the Netherlands, the United Kingdom, Belgium and France, among many others.
With respect and social conscience we return to enjoy the little things that make our country one of the best to live in.
If you are thinking of buying a villa or a country house in Costa Blanca Inland, at Carbonell Real Estate we will help you find your perfect home. Discover the house of your dreams on our website (https://www.inmobiliariacarbonell.com/real-estate/) and contact us.
Costa Blanca Inland awaits you again.