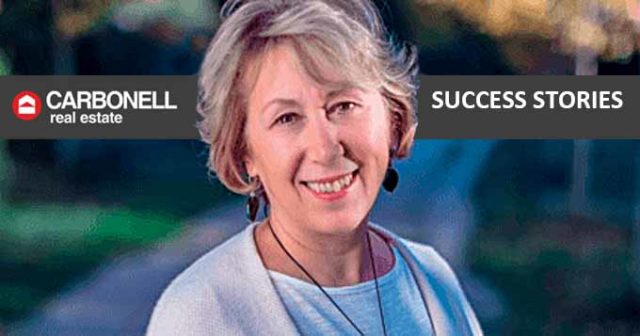 Last year, in Carbonell Real Estate we sold an amazing villa in Ontinyent to an English couple who decided to move to Costa Blanca Inland looking for a quiet life in the nature and with all the benefits of living in Spain.
Elena, natural from Siberia and living in London, offered a podcast interview to "Kyero website". In the interview, she spoke about the process of buying the house, her reasons for coming to Costa Blanca Inland to live and the relationship with Carbonell Real Estate to formalize the process.
Why did they decide to come and live in Spain and specifically in Costa Blanca Inland?
The main reasons to move to Spain are the long summers and the number of sun hours per day. Also, they loved how different is the daily routine between Spain and United Kingdom. According to Elena, "everything is so calm and quiet, you can enjoy life more".
In fact, beside of learning the language, they are adapting themselves to the Spanish habits. For example, learning to take things calmly, in order to appreciate life. Both Elena and her husband consider that in London, everyone is in a hurry to get to their destination. Here, people prefer to enjoy every day. Now they take long walks without worrying about time or destination.
At the beginning, they had rented a house in Javea, but Elena's husband listened about Alcoy's area and they decided to see properties here. One of them was a villa in Ontinyent and when they arrived, they saw that it was very different to what they were used to. According to Elena, Ontinyent combines the green colour and the true essence of Spain: palm, orange and olive trees, colour and lots of mountains.
They found in the regions of "Alcoià" and "La Vall d'Albaida" exactly what they were looking for: Good temperature, two Protected Natural Parks, near to the sea, surrounded of green landscapes and lots of nature.
The process of buying the house with Carbonell Real Estate
They saw many properties on the coast and in Costa Blanca Inland, but there was always something missing: either the house, the garden or the surroundings did not convince them. When they found the house in Ontinyent it seemed that all the pieces fit together.
It could be complicated to carry out the process of buying a house in a different country, but from the very first moment they had the help of the agent of Carbonell Real Estate. She took care of everything from the beginning, answering all their questions before coming from London and helping them throughout the process, step by step.
They found the ideal house: a spacious full equipped kitchen, a bedroom with dressing room, a room for an office among others, a large plot with garden, pool, barbecue and fruit trees. The country house is three minutes from "Els Pous Clars", a protected natural area with lakes and beautiful views which they found impressive.
Elena ends the interview by answering the question of what she likes most about her new life in Costa Blanca Inland: "It seems that we are at home. Neither of us feel that we miss London or that we want to return. We feel relaxed, we love being here."
To listen to the complete interview with Elena, click on the link of the portal inmobiliario Kyero.
If you also want to find your dream house in an idyllic area such us Alcoy and Ontinyent regions, contact to Carbonell Real Estate.